Tiger Coloring Pages: Wild Cats Captured

Capture and color some tiger coloring pages.  Take a peek into the secret life of the largest feline on the planet.
Observe these predators as they sleep, yawn, hunt, or rest.  Up close and personal.  Without bars.

Cat lover's you're certain to see your favorite feline reflected in their behavior.  I sure did. 
It was like looking at a giant version of my mighty house cat.  Similar behavior, yes.   Major difference, mine's a can eater not a man eater!
Check out Visitor Art!



Exotic Tiger Coloring Pages

Sleeping Tiger(s)

This work is licensed under a Creative Commons Attribution 2.0 Generic License.

Attribution: Alifeyzullah at Turkish Wikipedia

See what I mean about the similarities?  Just a couple of tigers catching a nap (that's about all mine ever catches ;).

You can really see the family resemblance, can't you?  Lazy furballs lounging around in an identical manner.


The only real difference?  Size.  And in this case, size really matters!

Cause when that lounging turns to lunging, the claw in the true tiger paw can maul.





Mom with Cub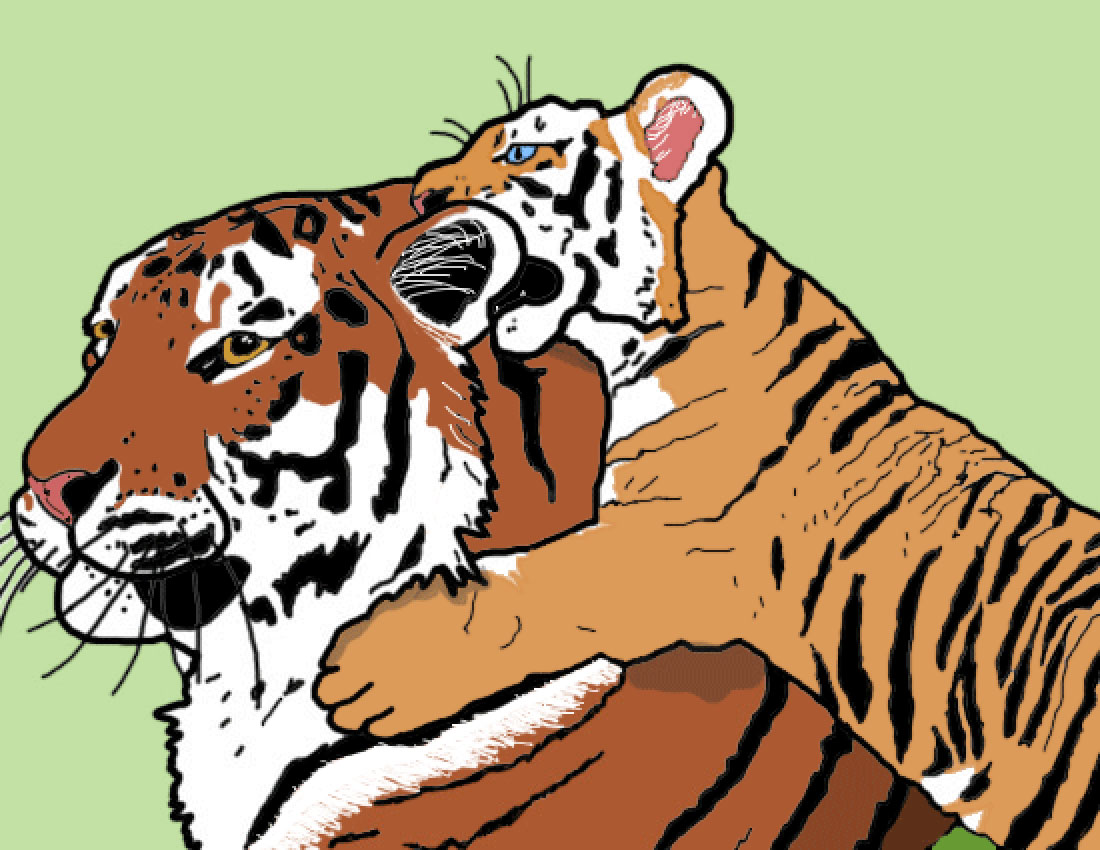 How cute is that?  For us!  A tiny tiger nibbling on his mother's ear.  Awww.

Mom might disagree, check her expression.  But as any good mother knows, you sometimes have to grin and bear it!  And bear it and bear it and... ;)
Bathing Tigers
Bath time for the biggggg kitties!   They sure enjoy the water more than my tiger.
You cat owners know exactly  what I mean.  Imagine trying to bathe these two if they didn't want to, yikes!
Safer to color these two cool cats!  Then you can shred them, if your art's all wet.







Yawning Tiger

Based on the picture Sumatran tiger at Taronga by Moonlight0551 from Australia.  WikimediaCommons.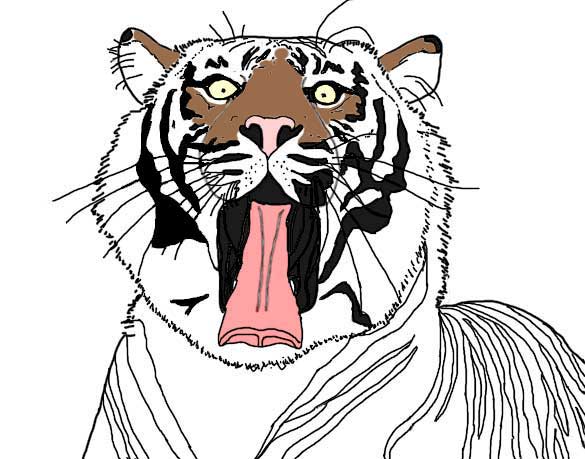 This Sumatran tiger seems to find life in the zoo to be a bit boring.  Or maybe his dinner left a bad taste in his mouth?
Maybe the vet told him to say "ahhhhh."  Idk.  But the sketch is kinda of funny isn't it?
I couldn't resist adding it to my tiger collection!
White Tiger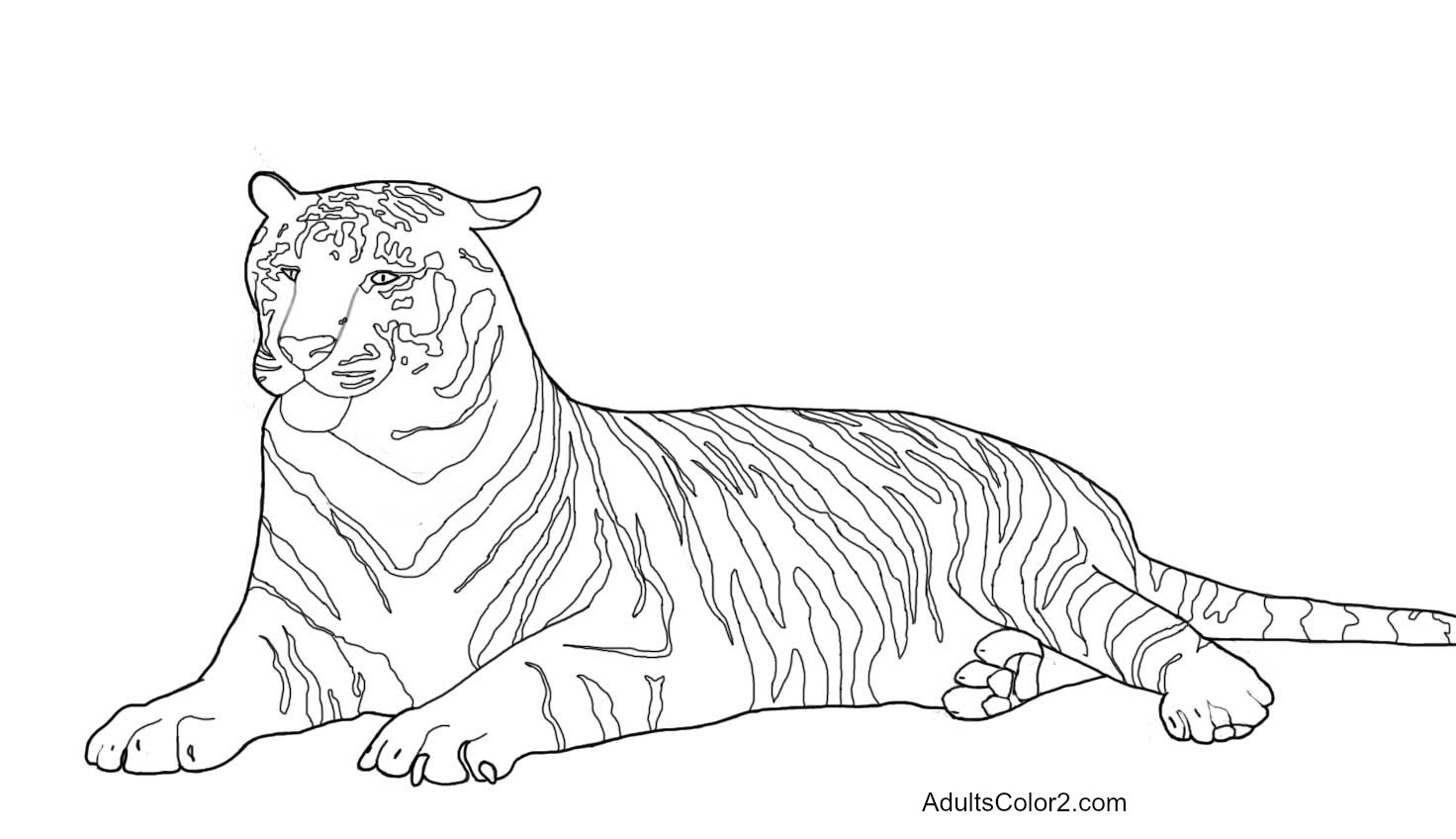 White tiger photographed at the Downtown Aquarium in Houston Texas.
My white tiger was photographed by a friend at the Downtown Aquarium in Houston, Texas.
Quite a regal pose she's striking.  But check the position of her ears. That down turned one is sending a message.

I think she's spotted or heard something disturbing.  And she's not happy about it!
Posing Tiger
There can be no doubt this ferocious feline is posing for the camera.  Showing off, I think.
Or perhaps warning the zoo visitors, staking his claim.  He's proudly displaying his physique. 
Issuing a challenge to any who would be fool enough to take on hundreds of pounds of muscle, teeth and claw!
How to Get Your Free Printable Coloring Page

Ready to color?    Left click on a coloring page and drag it to paint3d or similar.  Color then print .   OR...
Click on the black and white drawing. You'll need a pdf reader to open the coloring page.  Look for the printer icon on the right side(top) of the page. Click on the icon.

Don't have a pdf reader?  Get one free by clicking on the Adobe Acrobat link below.


Have You Created a Masterpiece?
Did you take a dull coloring page and turn into an awesome work of art? Are you bursting with pride?

Why not share it here? You could include any special coloring techniques you used.
Coloring Pages Other Visitors Have Created
Click below to see colorful contributions contributed by other visitors to this page...

Go ahead and try it...

Downloaded the Posing Tiger page and edited it using ArcSoft PhotoStudio 6. Colored using the Select tool and the Spray Paint tool... Background …
What a magnificent beast the tiger is.  Sadly they're seriously endangered.  Some have already become extinct.  There will be more tiger coloring pictures in the future.  Hope we can say the same for this big cat.
Tired of cats? Then go to the Dogs